Choosing a Commercial Coffee Machine
Not sure which type of commercial coffee machine will best suit your business requirements? We hope the following information and guidance will help you decide on the best coffee machine solution for you. We have concentrated on espresso machines verses bean to cup machines which is the most common question we get asked. Other commercial systems are explained below.
| | |
| --- | --- |
| Traditional Espresso 'Barista' Machines | Bean to Cup – Fresh Milk |
| | |
| This option requires know-how as the method of preparation is entirely hands on. It offers an opportunity for the barista to transform the espresso into a coffee speciality by milk frothing, leaving scope to be versatile and creative. Espresso machines make a higher quality Cappuccino / Latte with a little practice. | Speciality drinks are fully automatic in preparation, coffee bean grinding, coffee extraction and the milk foam, all prepared at the touch of a button. Bean to cup machines produce a variety of quality speciality drinks in less than 45 seconds. Many programmed drink options are available. |
| | |
| --- | --- |
| Coffee to Go – Self Service | Ciao Coffee Solution |
| | |
| Coffee to Go is growing rapidly in the UK. With high sales and margins, this option offers a simple one-touch, self service solution. Contactless options are available, useful in the current climate. Fresh coffee beans hopper and ingredient canisters for hot chocolate and dry milk. | Coffee excellence starts with the bean. Ciao Coffee is lovingly blended and roasted specificly to work hand in hand with our commercial coffee machine solutions. Carefully sourced from the finest plantations on the planet, including Fair trade and Organic. Full branded solution available. |
The espresso machine is simply a machine used to make espresso coffee using a pressurised boiler to force steam through finely ground coffee, produced by a separate coffee grinder. These machines come in a variety of group option sizes i.e. 1 group up to 4 groups. As a guide, each group handle will offer around 150 cups per day as a capacity, with the exception of some 1 group machines which will be right for sites that require around 100 cups per day.
Milk is manually frothed by placing a jug of chilled milk in its steam wand. More hands on but will prepare a better latte / cappuccino than bean to cup, with a bit of practice. Easy to clean, a simple back flush is required weekly. Commercial espresso machines are popular in coffee shops, bars and restaurants.
Easy to use, one-touch push button cappuccino coffee machines using fresh milk and espresso coffee beans. Most commercial bean to cup machines offer a daily coffee capacity as a guide, i.e. from 30 cups to 200 cups per day. Bean to cup machines are easy to use and require little training on usage. Simply push a button and all your beverages are produced automatically, such as espresso, long coffee, cappuccino and latte. These systems are preferred in site with a higher turnover in staff, in offices or where coffee isn't the main business such as delis and sandwich shops.
Our product range includes the famouse Jura coffee machines and we supply both commercial systems and domestic coffee makers. Bean to cup machines require more hands on cleaning due to fresh milk being introduced through the equipment. The cleaning cycles includes a daily milk flush, a system clean weekly and a descale clean when the machine requires it.

These machines are often placed in retail outlets such as convenience stores and forecourts. They are bean to cup machines which are simple to operate, self-service commercial machines which deliver high quality drinks to go. Choose between fresh or dried milk options.
With an average return of 85% POR and growth trends which continue rise, our symbol store customers are averaging £10k+ additional profits each year once purchased. Best selling solutions include our VX1 and Complete Combi solution, which includes a slush machine and required just 1 meter width retail space.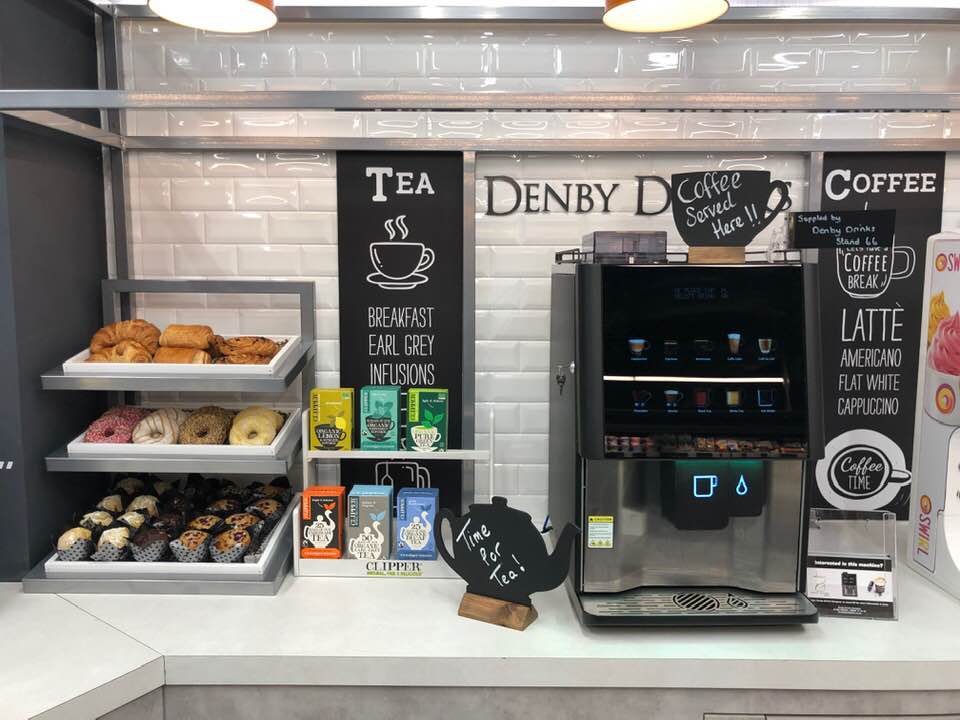 Soluble Instant Coffee Machines:
Simple to operate, single push button vending coffee machines which contain product canisters. Easy to self fill, these dispensing vending machines produce coffee, cappuccino and hot chocolate in seconds. Fast and convenient, these machines dispense lower quality beverages than bean to cup or traditional which is suited to cafes, convenience stores (including forecourts) and office workplace.
Where quality filter coffee is required in a variety of volumes, from medium (3 pint jugs) to large dispensing requirements (80Ltrs) bulk brew, our commercial filter coffee machine range caters for all requirements. Water is dripped through your filter coffee and served black. Used in a variety of sites, from cafes to conferencing where many people can be served with speed.
Our Best Sellers
It may be useful to understand what machines we sell more than others. In our range we have a few star performers. Best sellers have their own unique points whether that be exception performance, value for money, ease of use or an extended warranty of up to 5 years. It depends greatly on your type of business as to the relevant best seller and how much coffee you require the machine to dispense each day.
If your business is one that has a real focus selling coffee, we would recommend a traditional espresso machine machine package and you may wish to consider these systems:
2 Group Package – Packages costing from approx. £3k for coffee shop quality espresso based drinks.
If you are more inclined to bean to cup equipment, we recommend Jura Impressa. Swiss engineered which offer value and performance drink after drink. You may wish to consider these machines:
Up to 100 drinks per day – Jura JX8 with micro fine foam technology, our best seller
Up to 200 drinks per day – Jura Giga range such as the X3 and X8, capable of dispensing two cappuccinos simultaneously and with 2 year warranty
We would encourage you to call our coffee experts so we can discuss your unique requirement and therefor suggest a suitable machine for you and your business. Our advice hotline can be reached on 08000 14 18 18.