The Ciao VX3 Duo is a stunning Bean to Cup commercial coffee machine, featuring all the latest technology to guarantee high quality Espresso based drinks and fresh brew tea.
The High Pressure brewing system ensures that coffee shop quality coffee is produced at the touch of a button.
Due to the precision components and design, the VX3 is the perfect Bean to Cup Coffee Machine for medium to high usage sites looking to provide customers and staff with a premium Espresso, Cappuccino, Latte, Flat White, Mocha or Hot Chocolate. The Duo model also features a fresh brew tea brewer.
In addition to the elegant smoked glass door and user-friendly touchscreen, the VX3 also boasts customisable mood lighting which guides the user through a simple and pleasing experience, perfect for a Self-Service environment.
The VX3 ensures you can provide your customers the drinks they want, just as they like them. The core features are its speed and reliability, so you can relax while providing your customers with a effective coffee experience.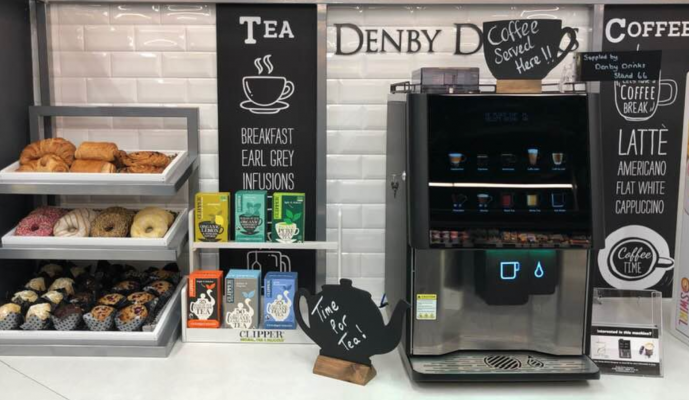 Technology
The VX series is the most versatile of the range when you're talking about hot beverage drink technology. It represents the current diversity of coffee/tea serving and preparation. You can choose the technology that matches the tastes of all your customers. So everyone can find the drink they're looking for.
Simple Selection
The contemporary look of the machine will grab the attention of your customers. Furthermore, the elegant and intuitive selection panel will tempt your customers to buy. In a matter of seconds, they'll have the drink they really want to drink in their hands.
Durable
Made for high demand locations where machine limits are tested. You can face any peak service period with complete peace of mind as every single drink delivers exactly what your customers want.
Speed
Time means money! The VX range makes cleaning and maintenance quick and easy so you can get your machines back to service to serve your customers.
VX3 Duo Features
Smoked glass contemporary finish
Touch screen interface
Twin pouring spout
LED lit drink button icons
One touch operation
LED lit drink preparation area
Intuitive tray
Customisable mood lighting
Fast dispense
VX3 Duo Drink Options (9-12oz recommended)
Espresso
Black Coffee
White Coffee
Latte
Cappuccino
Mocha
Hot Chocolate
Fresh Brew Tea
Customisable options
Included;
VX3 Duo coffee machine
Delivery, installation & training
Water connection & filter kit
2,000 drinks pack (including espresso beans, hot chocolate, dry milk, sugar sticks and fresh brew tea)
500 Ciao branded coffee cups & sip lids
12 months warranty + life-time support
Options
Pump and tank system
USB connection – Settings control
Specifications
Dimensions – Width 420mm x Height 700mm x Depth 550mm
Power – 230v 12Amp plug into mains
Weight – 45kg
Fully adaptable as a table top or coffee to go machine.