Sencotel 1 x 10Ltr Slush Machine – GB110
The Slush Puppy Machine range by Sencotel enjoy UK market leader status. Robust and easy to use, they deliver exceptional performance. This slush machine's fast freeze process produces a smooth, frozen, taste tingling drink in the flavour of your choice.
Investing in a premium slush puppy machine is the smart way to easily generate incremental profits. The cost to produce a 200ml/7oz slushy drink is around 16p which includes the slush syrup, slush cup and straw. Most of our shrewd customers charge between £1.00 – £2.00 for slush drinks depending on its size.
Slush machine investments are usually paid for within a few weeks and in addition, we offer starter packs which when sold will pay for your slush equipment outlay.
GB110 Features;
❆ Night time energy saving setting
❆ Adjustable product density settings
❆ Efficient low running cost
❆ Drip tray overflow indicator
❆ Easy clean
❆ High quality components
❆ Stainless steel panels and evaporator
❆ Heavy duty motor gear box
❆ Sealed compressor
❆ Environmentally friendly refrigeration
❆ Air cooled
❆ Illuminated slush tank lid
Specifications;
Capacity – 1 x 10Ltr (holds 50 x 7oz drinks)
Dimensions – W20cm x D47cm x H86cm
Weight – 28Kg
Power – 2.5Amp – 350 Watts
Although the width is 20cm, a space of 15cm wide is needed to allow the airflow to circulate at all sides of the machine.
Starter Pack Option 1,000 Drinks – £250 + VAT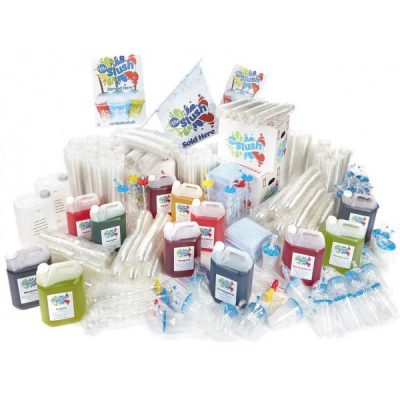 30Ltrs Mr. Slush Syrup – 6 x 5 Litres
1,000 Slush Cups any size
1,000 Dome Lids
1,000 Slush Straws
Point of Sale Pack + Optional Machine Branding
1 x Mixing Containers
Maintenance Kit
Starter Pack Option 2,000 Drinks – £350 + VAT
60Ltrs of Mr Slush Syrup – 12 x 5Ltr all 6 to 1 ratio (You choose the flavours)
1,000 x Slush Cups
1,000 Dome Lids
2,000 x Strawspoons
2 x Ratio Mixing Jug
Premium Point of Sale Pack
1 years on-site parts and labour warranty included, extended to 3 years for our slush supplies customers.