New Jura GIGA X8c is the water mains connected option which allows JURA to demonstrate Swiss innovation and professionalism down to the very last detail.
Anywhere where a capacity of up to 200 cups is the order of business, the machine impresses users with its quality, functionality and reliability. Coupled with top performance in every respect, this results in a high-tech automatic coffee machine which is ideally tailored to the requirements of office floor, seminar, catering and Coffee to Go solutions.
Features Summary
✔ 4,3″ Touchscreen Colour Display
✔ 2 precision Ceramic Disc Grinders
✔ Automatic Grinder Adjustment A.G.A.©
✔ Speed Function (thanks to additional hot water bypass)
✔ 2 Thermo-block Heating Elements
✔ 2 high Performance 15 Bar Pumps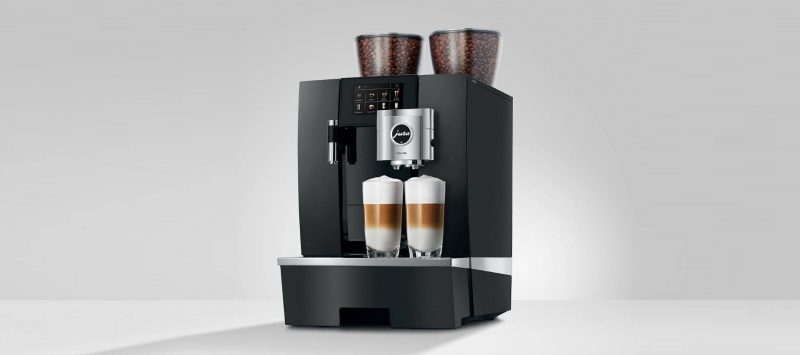 New Jura Coffee Machine which sets new standards amongst Bean to Cup Machines. The Jura GIGA X8c Gen II combines unrivalled style with Swiss precision engineering to result in the most impressive Jura Bean to Cup Machine yet.
The Jura GIGA X8c Gen II features a new 4.3″ user-friendly touchscreen to allow users to simply swipe through the various Menus like using your Tablet or Smartphone.
Each Coffee speciality can be personally crafted by easily navigating through essential options such as Strength, Brewing Temperature, Grind & Milk consistency.
The addition of 2 Ceramic Disc Grinders also provides the option of both standard and decaff Coffee specialities at the touch of a button.
With dual Thermo-block heating elements and 2 high performance 15 bar Pumps, the Jura GIGA X8c Gen II would be the ideal Bean to Cup Coffee Machine for any environment producing up to 200 cups per day.
A separate Hot water bypass function is also included to ensure the perfect Americano is produced and drinks can be prepared at increased Speed, essential during busy lunchtime periods.
The GIGA X8c Gen II features a direct water connection or alternatively, the X8 is refilled manually via a 5ltr Water reservoir.
This stunning Bean to Cup Machine has a choice of either Chrome or a Piano Black finish.
| | |
| --- | --- |
| Variable brewing chamber | 5 – 16 g |
| Intelligent Pre-Brew Aroma System (I.P.B.A.S.©) | Yes |
| Intelligent preheating | Yes |
| Active bean monitoring | Yes |
| Energy Save Mode (E.S.M.©) | Yes |
| High-performance pump, 15 bar | 2 |
| Thermoblock heating system | 2 |
| Fluid system | 2 |
| Monitored drip tray | Yes |
| Maintenance status display | Yes |
| Integrated rinsing, cleaning and descaling program | Yes |
| Adjustable water hardness | Yes |
| One or two cups of espresso in one brewing operation                                  | Yes |
| JURA hygiene: TÜV-certified | Yes |
| Filter cartridge | CLARIS Pro Smart |
| Zero-Energy Switch or power switch | Classic |
| Swiss made | Yes |
Number of drink options                                                                                 

32

1 ristretto
2 ristretto
1 espresso
2 espresso
1 coffee
2 coffees
1 cappuccino
2 cappuccino
1 caffè latte
2 caffè latte
1 Caffè Barista
2 Caffè Barista
1 Lungo Barista
2 Lungo Barista
1 Espresso doppio
1 espresso macchiato
2 espressi macchiato
1 latte macchiato
2 latte macchiato
1 Flat White
2 Flat Whites
1 portion of milk foam
2 portions of milk foam
1 portion of milk
2 portions of milk
Pot of coffee
Hot water
Hot water for green tea
Hot water for black tea
Ground coffee
1 special coffee
2 special coffees

Pot of espresso-quality coffee

Yes

Hot water function

Power hot water system

Additional preground coffee powder

Yes

Pot of coffee (360 ml / 12 oz.)

1 min. 54 seconds

2 latte macchiato

1 min. 26 seconds

2 cappuccino

1 min. 15 seconds

2 Flat Whites

1 min. 26 seconds

2 caffè latte (cafés au lait)

1 min. 7 seconds

2 coffees

58 seconds

2 espresso

53 seconds

2 ristretto

35 seconds

Hot water (200 ml / 7 oz.)

27 seconds
 

Features

| | |
| --- | --- |
| Compatible with J.O.E®   | Yes |
| JURA fine foam technology | Yes |
| Milk or milk foam preparation | Yes |
| Grinder type | Adjustable ceramic disc grinder |
| Number of grinders | 2 |
| Pulse Extraction Process (P.E.P.®) | Yes |
| Powder chute for ground coffee | Yes |
| Powder recognition for additional ground coffee variety                                 | Yes |
| A la carte bean selection | Yes |
Settings and programming options

| | |
| --- | --- |
| Programmable amount of water | Yes |
| Amount of water can be adjusted for each preparation                                   | Yes |
| Programmable coffee strength in levels | 10 |
| Coffee strength can be adjusted for each preparation | Yes |
| Programmable brewing temperature | 3 |
| Programmable amount of milk | Yes |
| Hot water temperature can be programmed in levels | 3 |
| Programmable amount of hot water | Yes |
| Rotary Switch | Yes |
| Individualised productname | Yes |
| Resettable day counter | Yes |
| Programmable switch-on time | Yes |
| Programmable switch-off time | Yes |
| Shows the number of preparations for each individual product   | Yes |
| Integrated milk system rinsing and cleaning programme | Yes |
| Automatic milk rinse | Yes |
| Remaining time display | Yes |
| Generating code groups | Yes |
Design and materials

| | |
| --- | --- |
| Display                                                                                                              | TFT-Touchscreen-color display |
| Height-adjustable dual spout (Milk/Coffee)    | 70 – 159 mm |
| Hot-water spout | Yes |
| Height-adjustable hot water spout | 69 – 165 mm |
| Cup illumination | White and amber |
| Separate water tank for descaling  | Yes |
| Sound design | Yes |
Capacity

| | |
| --- | --- |
| Recommended maximum daily output                                                             | 200 drinks |
| | |
Specifications

| | |
| --- | --- |
| Water tank capacity                                                                                           | 5 L |
| Coffee grounds container (servings) | 40 |
| Numbers of bean containers | 2 |
| Capacity of bean container with aroma preservation cover  | 650 g |
| Cable length | 1.1 m |
| Voltage | 220 – 240 V ~ |
| Current | 10 amp |
| Frequency | 50 hz |
| Power | 2700 Watt |
| Accounting systems | compatible |
| Stand-by power | < 0.5 Watt |
| Weight | 19 kg |
| Width | 32 cm |
| Height | 56.5 cm |
| Depth | 49.7 cm |
Included:
X8c Bean to Cup Machine (plumbed to water connection)
Water connection kit + filter
Delivery, installation and training
2 years on-site parts and labour warranty
Award winning coffee and drinks starter pack – 2,000 drinks
Cleaning products (enough to last 6 months)
Optional Extras